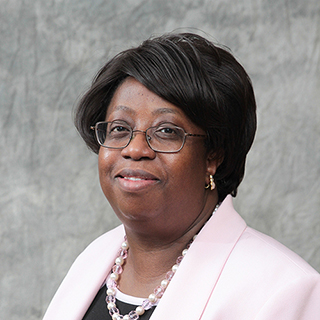 Carol-Ann Boothe is a Director in the Department of Professional Practice Independence Group; conducting due diligence on firm acquisitions; conducting review of and approving new services offered by KPMG to relevant clients; and conducting internal quality control review of non-audit services provided by the firm to ensure they are permissible under the relevant authoritative legislation. Previously, CarolAnn worked in KPMG's audit and advisory practices in Jamaica, London, UK, Romania, Croatia, India, and USA on clients in various industries.
Outside of work, Carol-Ann is a Global Council Member of the Association of Chartered Certified Accountant (ACCA), Member of the ACCA Global Ethics Committee, and Member of the ACCA Global Audit Committee. Carol-Ann was the Chair of the ACCA USA Members Network, Member of the ACCA International Assembly (IA), Vice Chair of the ACCA USA Members Network, and has been the ACCA Washington DC Chapter Head from 2013, and Treasurer and President of the ACCA Women's Society South East Division in London, UK.
Carol-Ann is also the Co-Education Director of the Association of Government Accountants (AGA) Montgomery/Prince Georges Chapter, Executive Board Member of the National Association of Black Accountant (NABA) Washington DC Chapter; and Co-chair of the Jamaican Nationals Association of the Washington, DC Metropolitan Area (JNA) Membership Committee. Carol-Ann has been a part-time Becker CPA Instructor for over 8 years and is an active member of the Institute of Chartered Accountants of Jamaica (ICAJ).
Summary of Recent Awards
Carol-Ann received the following distinguishing awards for going above and beyond in giving back to the accounting profession:
• May 3, 2019 - Accounting Leader of the Year, NABA
• May 8, 2019 - Outstanding Board Member/ Special Achievement Award, AGA
• June 5, 2019 - 2018/2019 Chapter Volunteer of the Year, AGA
• June 10, 2019, ACCA USA's Advocate of the Year
• June 13, 2019, ACCA USA valued service as US Committee Chair
• September 16, 2020, Outstanding Contribution to the Chapter, AGA
Other Activities
• Member, KPMG Risk Management Inclusion & Diversity Committee
• Member, African Ancestry Business Resource Group
• Member, KPMG Network of Women (KNOW)
• Serves as Culture Champion, KPMG Culture Champion Network
• Served as Federal Sector Business Unit Lead eAudIT (electronic workpapers) Champion
• Served as National and Local Office Instructor
• Served as a People Management Leader (PML) for up to five counselees
• Served as Reviewer of Federal Agencies Annual Performance and Accountability Report (PAR) in the AGA Certificate of Excellence in Accountability Report (CEAR) Program
• Served as Sampling Specialist
• Served as Go-to-Market Initiatives Committee Co-Chair, African American Network
• Served as Engagement Efficiencies and Methodology Team Lead