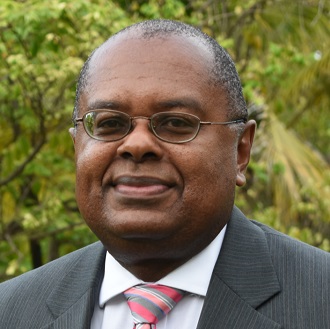 Dr. James Fletcher
James Fletcher is a former Minister for Public Service, Information, Broadcasting, Sustainable Development, Energy, Science and Technology in the Government of Saint Lucia. He served in that position from December 2011 to June 2016.
During his tenure, James Fletcher led Saint Lucia on an aggressive path toward the modernization of the energy sector with a strong push toward the use of renewable energy. He has been very active in international climate change negotiations. He played a leading role in the Caribbean's '1.5 to Stay Alive' climate change campaign. During the COP21 negotiations on the Paris Agreement in 2015, he was a member of a small group of 14 ministers from various countries around the world who were selected by the French Presidency to help achieve consensus among the countries on the more contentious elements of the international climate change treaty.
In recognition of his work, James Fletcher was highlighted by the organization Global Optimism in Profiles of Paris as one of the people who played a key role in creating the historic Paris Agreement on climate change.
Among his achievements in other areas of his ministerial portfolio are the establishment of modern information technology centres in several communities in Saint Lucia, the development of a program for free island-wide Wi-Fi, and the establishment of an Employee Assistance Programme to provide public officers with confidential, professional support to deal with emotional challenges.
In 2019, James Fletcher was selected by the United Kingdom's Chevening Scholarship Program as one of 35 Global Changemakers who exemplify leadership on critical global issues.
James Fletcher currently manages his own company, SOLORICON, which provides consulting services in renewable energy, climate change, sustainable development, water policy, public policy and agriculture. In 2017, he wrote and published the book Governing in a Small Caribbean Island State. He also wrote the Regional Strategic Action Plan for Governance and Building Climate Resilience in the Water Sector in the Caribbean and in 2019 led the team that established The Climate Resilience Execution Agency for Dominica (CREAD). He recently launched The Caribbean Climate Justice Project, which advocates for climate justice and just transitions for the people most impacted by climate change. James Fletcher holds an Honours Bachelor of Science degree in Biochemistry from the University of Ottawa, Canada and a Doctor of Philosophy degree in Crop Physiology from the University of Cambridge, England.