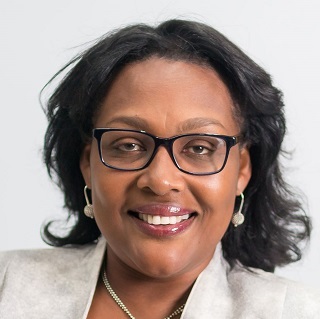 Grace Burnett
CEO, GraceKennedy Financial Group
President & CEO, GraceKennedy Money Services
Grace Burnett is the Chief Executive Officer of the GraceKennedy Financial Group (GKFG), a position she has held since February 01, 2016. Grace is the first female to be appointed to this position. She was also at that time appointed as a member of GraceKennedy's Executive Committee the body that holds responsibility for the overall direction of the Group. In April 2019, Grace's portfolio was further expanded when she was appointed President and Chief Executive Officer (CEO) of the GraceKennedy Money Services (GKMS) Group of companies the largest contributor to GraceKennedy's profits. Grace sits on and chairs several boards across GraceKennedy
Grace joined GraceKennedy Ltd in August 2000, as General Manager of JIIC a Property and Casualty insurer. In 2006, Grace took on the challenge of serving as Managing Director of Allied Insurance Brokers Ltd (AIB) the largest insurance intermediary in Jamaica. AIB focusses on evaluating and securing insurances for large commercial clients and government investments from the highly developed insurance markets across the world.
She returned to GK General Insurance in January 2013 as its first female Managing Director. Grace was later appointed CEO for the Insurance Segment, recognising her now broad insurance experience, with overall responsibility for the strategic direction of GraceKennedy's insurance businesses.
She boasts a tremendous track record in the Group and has honed her skills in strategy development and execution, operations, customer experience and employee engagement. Appointed in most instances to address concerns in subsidiaries she is considered a "fixer", accessible, people focussed and with an enviable reputation for developing internal talent, several of whom she is proud to say have progressed to leading GK businesses themselves.
Grace is a former director of the Jamaica Chamber of Commerce, the United Way of Jamaica and Junior Achievement Jamaica, and past Chairman of the Agro Investment Corporation, the government agency focused on improving the marketing and distribution of agricultural products. Whilst there she was successful in improving the governance of the organization to enhance its ability to secure external funding. She holds the distinction of being the Founding President of the Jamaica Society for Insurance Professionals and Technicians. Grace is currently an executive member of The Women's Leadership Initiative (WLI) a committee of United Way of Jamaica, the Jamaican Bar Association, The Chartered Insurance Institute (UK) and Toastmasters International.
An attorney-at-Law, she gained a Bachelor of Laws from the University of the West Indies and completed her legal education the Norman Manley Law School. Her Insurance Chartered status was earned from the Chartered Insurance Institute of the UK. She is also a Chartered Director. She has participated in several leadership development courses including the Leadership Journey at the Wharton Business School, University of Pennsylvania and GK's Executive Leadership Development Programme.
Grace is mother to two daughters and is passionate about gardening and mentoring.